00
MAINTENANCE IS SEXY CAMPAIGN
Maintenance is the work of the unsung heroes, the essential work of tireless individuals who weather storms, summers, staffing shortages, and global pandemics. Take a look out the window and you'll see that maintenance is everywhere, and that things fall apart when it is undervalued, unappreciated, unseen, or uncompensated.
---
01
THE STATE OF GOOD REPAIR
Smart Growth America and the Washington State Department of Transportation founded a new artist-in-residence program—the first of its kind in the country to be housed within a state agency. As the chosen artists-in-residence, we spent a year in deep conversational research across all six designated regions of the state.
---
02
THE MAINTENANCE POST
A hyperlocal newsprint publication connecting the public to the often invisible labor of highway maintenance workers around Washington State.
---
03
THIS BOOK IS A BRIDGE
This document is a moment in time and a mileage marker. It's the roadmap to WSDOT's pilot residency program. It is a report about people and their places, the very human effort it takes to hold the transportation network together.
---
04
INEVITABLE TRUTHS
Equal parts play and provocation, we produced a series of transportation-themed bumper stickers for limited release during the Innovations and Partnerships Conference hosted by WSDOT.
---
05
TRANSPORTATION DIVINATION
The DOT DECK was produced as a tool to understand and inhabit the conversational nature of transportation work. It was created using excerpts from agency-wide interviews with employees at the WSDOT and images of the identifying landmarks of each maintenance region.
---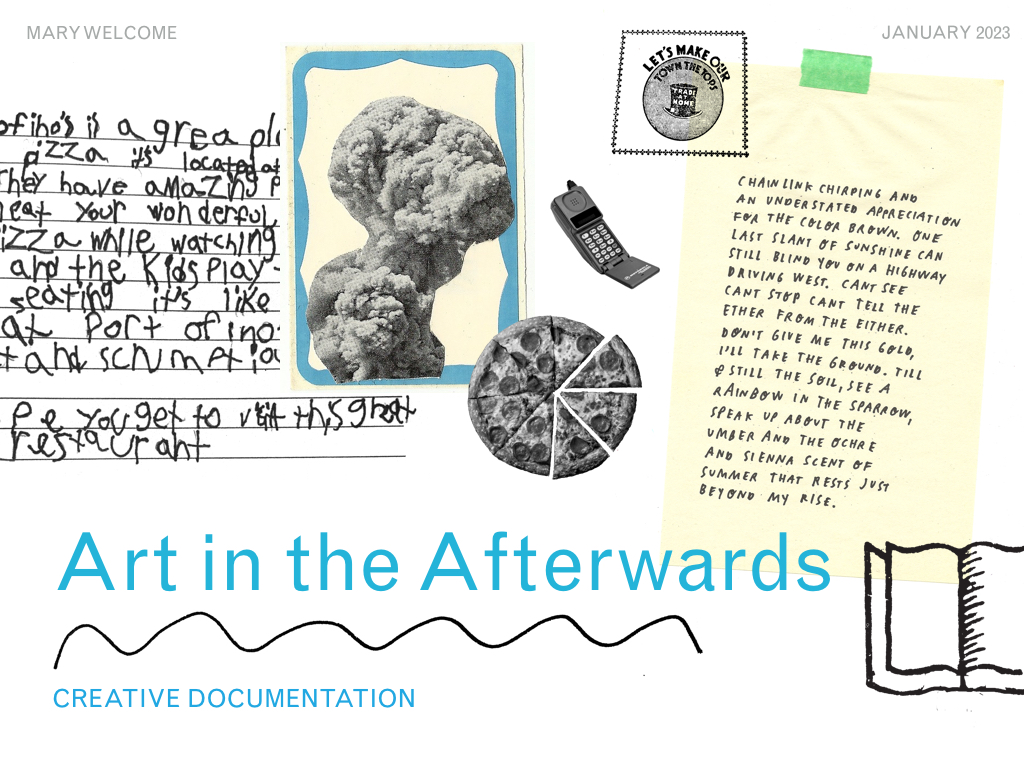 06
ART IN THE AFTERWARDS
This workshop provides artists with a toolbox of strategies for storytelling across space, time, and medias.
---
07
RETURN TO PUBLIC SPACES
This was the first ever arts-related workshop to ever be presented at the annual meeting of the Transportation Research Board (an industry convening that has been happening for over 100 years).
---
08
THE YES HOUSE
This civic engagement project was an open, inclusive, collaborative exploration of what a community-oriented building could be in downtown Granite Falls, Minnesota..
2017

Civic
Engagement

︎
---
09
WINTER WARMING HOUSE
We programmed a collaboratively built all-are-welcome rural downtown warming house as an experimental proof-of-concept for community strategies outlined by neighbors during a creative community design-build process.
2018
Creative Community Design Build
︎

---
10
HELLO HOLA NEIGHBOR VECINO
The St. James Advocate Program trains community members to connect neighbors, family members, and friends to critical resources, information and opportunities.
---
11
HEALTHY HOUSING INITIATIVE
Through an extensive engagement process, we created a toolkit for creative collaborative engagement between the St. James Housing Committee and other residents in town, specifically those households with limited English language skills.
---
12
SAWBILL ARTIST RESIDENCY
We are currently developing a rural residency with a buildout of the domestic and studio spaces and the conceptual framework. The Sawbill will host cultural workers and non-traditional artists in rural west Michigan, starting in summer of 2023.
---